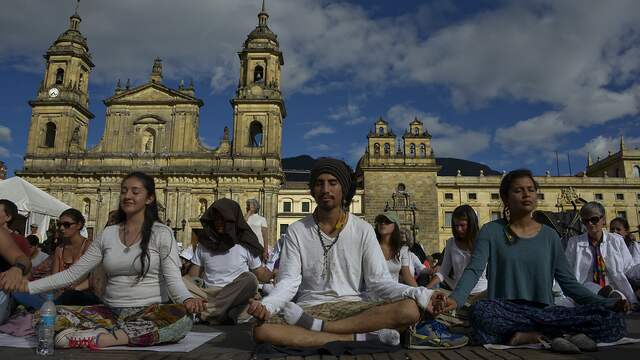 'Pijnstillende werking van meditatie is geen placebo-effect'
De pijnstillende werking van meditatie is waarschijnlijk geen placebo-effect. 
Proefpersonen kunnen pijnprikkels met 27 procent verzachten door te mediteren volgende de zogenoemde mindfulness-methode. 
Als ze in plaats van meditatie een placebo-medicijn krijgen, zoals een zalfje, vermindert hun pijn met slechts 11 procent. 
Dat melden Amerikaanse onderzoekers in het wetenschappelijk tijdschrift
Journal of Neuroscience
.

Hitte-element
Bij het experiment werd bij 57 proefpersonen een soort hitte-element tegen de huid van hun onderbeen gedrukt. Het apparaatje had een temperatuur van 49 graden Celsius. Sommige deelnemers kregen vervolgens de opdracht om te mediteren, anderen kregen een placebo-zalfje toegediend. Ondertussen werden er hersenscans gemaakt van alle proefpersonen.Uit het onderzoek blijkt dat niet alleen de fysieke pijn van de mediterende deelnemers sterk afnam. De emotionele pijn die de proefpersonen voelden als gevolg van het hitte-element verminderde met 44 procent. Bij de proefpersonen die een zalfje kregen toegediend, nam het emotionele aspect van de pijn slechts met 13 procent af.
Hersengebieden
De meditatie activeerde ook andere hersengebieden dan het nepzalfje. De mindfulness-meditatie zorgde vooral voor activiteit in delen van het brein die met zelfcontrole te maken hebben. Bij proefpersonen die het placebo-effect ervoeren, werden vooral hersengebieden actief, die betrokken zijn bij pijnverwerking.
De pijnstillende werking van meditatie werd vier jaar geleden al aangetoond door dezelfde wetenschappers van het Wake Forest Baptist Medical Center in de Verenigde Staten. Volgens hoofdonderzoeker Fadel Zeidan bewijst het nieuwe experiment dat de pijnstillende werking van mindfulness echt is, en verschilt van placebo-effecten.
"Deze studie toont voor het eerst aan dat mindfulness-meditatie op een heel andere manier voor pijnstilling zorgt dan een placebo-zalfje", verklaart hij op nieuwssite ScienceDaily.
Behandeling
De resultaten van het onderzoek kunnen mogelijk worden gebruikt in de medische wereld. "Gezien onze bevindingen gaan we ervan uit dat 20 minuten meditatie per dag genoeg is om pijnbestrijding te verbeteren", aldus Zeidan. "Omdat we gezonde proefpersonen hebben gebruikt, weten we echter nog niet of onze bevindingen ook gelden voor mensen met chronische pijn."
Mindfulness is een methode van mediteren waarbij mensen zich zo veel mogelijk bewust worden van fysieke sensaties zonder erop te reageren.
Bron: NU.nl/Dennis Rijnvis